Picture of "Devisement du monde", BNF
e devisement du monde
or still "Le Livre des Merveilles".
And why in french and not in latine, or italiano ?
Marco Polo is a venitian, nobilian man, ans a well educated man, "if you want to be 'in'", it must speak french.

Because of the cross between royal families, and mariage of interests, the french became a usual tongue geografically in Europe. Still at the epoch of Cristobal Colon, in the XVth-XVIth century, the french is spoken in France (of course) but in Italy and England too.




* * *


The book, the original was dictated by Marco Polo to Rueticello da Pisa a novelist of the XIVth century. Switch a controversial thesis the story could have been beautifyed. We will maybe never know. What we know is that the original text has been lost, and copies were sent to the famous families, particularly the french king. The text was translated in italian too.

However, the monks who copied and translated the text (more than hundred manuscripts) didn't see what Marco Polo saw so far from Europe, and used of imagination to draw the representations of the Mongolians, the unicorns and other marvellous landscape of Cathay. For sample, on the picture below, The Polo are front the Kan, but this Mongolian look like persians, and not asian.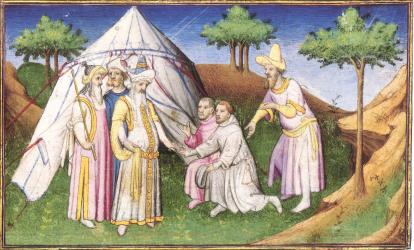 The book is composed of CCXXXIV chapters and finishs with this words :

"DEO GRATIAS, AMEN"



A few sources...




History continues here